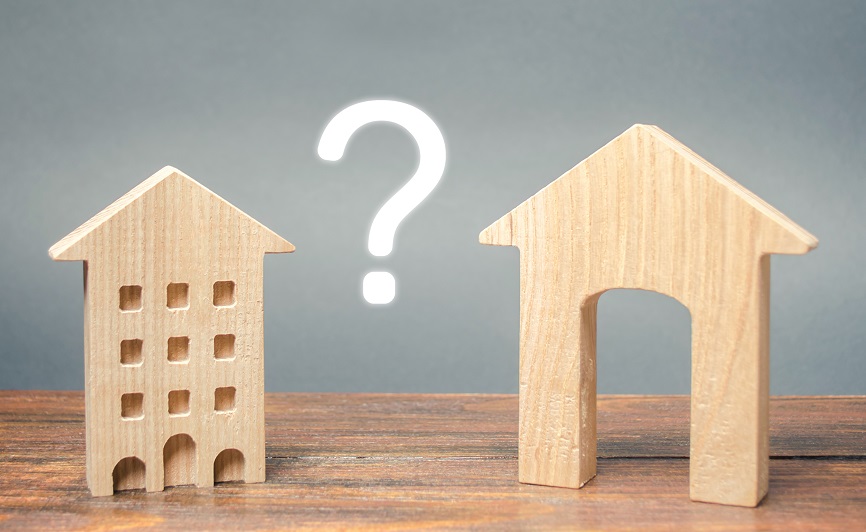 Property types in Israel
In Israel, the range of property types may not be extensive, but it's important to understand the definitions, as they can differ from what you're accustomed to or what is common in your country. To ensure clarity, let's explore these property types, some of which may be unfamiliar to you. Let's dive in!
Apartment (dirá – דירה)
An apartment, also known as a flat, condo, or condominium unit, is a single-floor residence located within a shared residential building. Common areas such as the lobby, parking lot, garden, and stairs are shared among the owners.
Garden apartment (dirát gán – דירת גן)A garden apartment, or dirat gan, is typically a standard apartment situated on the ground floor. It comes with an attached fenced piece of land exclusively for personal use. Such apartments have high demand among families with kids.
Duplex (דופלקס)
A duplex is a two-floor apartment with internal stairs connecting the levels. The apartment's layout depends on whether it occupies the ground and first floors, potentially featuring a garden, or the topmost floors, offering a spacious balcony.
Bonus: Some duplexes have a separate entrance on the other floor, providing the opportunity to rent it out or share the space with parents or grown children while maintaining privacy.
Triplex (טריפלקס)
A triplex is similar to a duplex but with three floors.
Penthouse (פנטהאוס)
A penthouse is a spacious apartment located on the top floor, often accompanied by a large balcony. It is usually equivalent in size to two regular apartments within the building. Penthouse units can span the entire floor or share it with another penthouse. Some penthouses are two floors, known as penthouse duplexes, and may feature multiple balconies.
Mini Penthouse (מיני פנטהאוס)
A mini penthouse is typically located on one of the top floors. It is larger than a standard apartment and includes a generous open balcony, usually exceeding 30 sq.m (322 sq.ft).
Roof Apartment (dirát gág – דירת גג)
A dirat gag is an apartment situated on the top floor with access to a private area on the roof, which may include one or two additional rooms. Access to the roof is usually provided via internal stairs from the apartment or through the common building stairs.
Bonus: If the roof is accessible through the common stairs, it is possible to rent out the separate unit and generate a steady monthly income, potentially covering a significant portion of the mortgage payment.
Boutique Apartment (dirát boutíque – דירת בוטיק)
A dirat boutique, similar to a mini penthouse, is primarily a marketing term. It typically refers to an apartment located in a building with 3 to 5 floors, featuring one or two apartments per floor. Boutique apartments enjoy optimal air circulation, quietness, and enhanced privacy due to their limited number.
Villa or cottage (או קוטג' וילה)
A cottage, also referred to as a villa, is a detached house with its own garden, devoid of shared walls. Larger or more luxurious cottages are often designated as villas.
Attached House (du mishpachtí –דו משפחתי)
An attached house, or du mishpachti, is a private residence sharing one wall with a neighboring house. In most cases, these houses have a vertical shared wall, while each unit maintains its own garden.
This type of housing is common in Israel, offering space-saving benefits through shared walls. Consequently, du mishpachti properties tend to be more affordable compared to cottages or villas.
Lot (migrásh - מגרש)
A migrash refers to a plot of land designated for self-construction. Each lot has specific construction limitations based on its size and location. Smaller lots are typically intended for the construction of attached houses (du mishpachti), while larger lots accommodate the construction of detached houses.
Conclusion
If you are considering purchasing a property beyond a standard apartment (dira), it is essential to familiarize yourself with the terminology associated with that specific property type. We highly recommend hiring a real estate lawyer to guide you through the purchasing process.
P.S. In Israel, the living room is counted as part of the room count. Therefore, a 5-room apartment typically consists of 4 bedrooms plus the living room. Some large apartments or houses may even feature 2 living rooms.
P.P.S. If you are interested in purchasing an apartment or any other type of property, Sabras is here to assist you. Contact us, and we will help you find your new home in Israel.
Ready for your home in Israel?